Frequently Asked Questions
About your password
Shipping & Delivery
Shipping Charges
Changing orders

Colored lenses
About the lens data
Prescriptions
Eye examinations
General
Coupon / Discount
Other
Password
Q: What if I forget my password?
A: Please go to our Reset Password page.
1. Enter the email address you registered with to request a password reset email.
2. You will receive an email from us with a link to reset your password.
3. Follow this link to the password reset form, where you can enter your new password.
Shipping & Delivery
Q: When will my order be delivered? Can I check the status of my order?
A: Your order will be processed and shipped out within 2 - 3 business days.
It usually takes 15 to 20 days after it is shipped out from our distribution center.
Toric lenses are custom made for each individual and as such, the average lead time is between 2 to 4 weeks and in certain cases up to 8 weeks for rare prescriptions.
You can access your Account to see the status of your purchased order.
* If you ordered Toric lenses, you will not be able to cancel your order during this restocking phase.
Q: What if I am away when the order arrives?
A:If the package is still in the hands of USPS, you can contact them and you may still be able to receive the package.
However, after a certain period of time, your package will be returned to the sender (Majorlens US).
If you find that USPS has returned your order to us while you were away, please send us an email and we will re-send your order; however the extra shipping charge will be at your expense.
Q: Can I specify a specific date for delivery?
A: We are not able to control the delivery date, however you may contact the shipping company for arrangement to deliver your order on a certain date.
We are unable to guarantee that they would be able to accommodate to your request.
Q: Do you offer any special delivery options?
A: We do not offer any special delivery or express shipping options at the moment
Q: Can I send my order to a location other than the US?
A: Due to strict controls on medical devices, we are unable to ship to locations outside the US.
Q: What if the package has been returned to Majorlens US due to an error in my address?
A: Please contact us by email. Our customer support will give you instructions about the necessary steps to take in order to re-send your package.
(Since we are not responsible for address errors as a result of the address being wrongly input, an additional shipping fee will be charged to re-send the order.)
Shipping charge
Q: How much is the shipping charge?
A: We deliver contact lenses anywhere in the US with a flat fee of $15.90 per order, regardless of location.
Click[here]for more details on our Shipping Charges.
Q: Will I be exempt from customs?
A: We do not collect Sales Taxes. Your purchases are free of Tax.
However do note that your respective Country's Customs may impose import taxes on your purchases during shipment.
We have placed limitations on purchase quantity so that you will not be charged the ITF, however please note that any customs duty that may occur is at the responsibility of the purchaser.
Changing Orders
Q: Can I order several kinds of contact lens at the same time?
A: As long as orders match your latest prescription, you may choose to purchase any kind of merchandise from our website.
Q: Has my order been placed properly?
A: When you have completed your order, you will receive a confirmation email from us.
If you do not receive an email(confirmation email) from Majorlens US, please use the[inquiry form]to contact us.
Or visit[My Account]to confirm your purchase.
Q: What if I do not receive a confirmation email?
A: Some email servers might have trouble with our email or you might have entered your email address incorrectly.
Please contact us if you have not received a confirmation email within 1 hour of placing your order.
Q: What if I made a mistake on my order?
A: Please contact us immediately to see if we can change your order.
If your order has already been shipped, we will instruct you on where and how to send us the order that you would like to return.
Once we received the goods that were returned to us, we will send the correct order to you.
* We will be able to do an exchange for you but the cost to re-send the order will be at your own expense.
* Please refer to our Return policy in our Terms & Conditions for more information.
Q: What if my Credit Card Payment has been declined?
A: Please restart the purchasing process again and if the payment has been declined again, please kindly with the card's issuing bank.
Q: What kind of conditions apply for returns or exchanges?
A: We only accept returned items when:

You receive a defective lens.
A: You may exchange merchandise in the following cases:

Your ophthalmologist gives you a new prescription.
You make a mistake when placing your order.
On all exchanges, we will exchange the price of the originally ordered items and replace them for products of equal value.
Click[here]for more details on our Return Policy.
Colored Lenses
Q: Can I exchange contact lenses because the lenses I purchased do not match the image on the website?
A: We will not exchange your contact lenses because they differ from the images shown on the website.
We only accept exchanges when:

you receive defective lens.
your prescription changes. (We only accept unopened and unexpired boxes)
you made a mistake on your order.
Q: What if I want to wear colored contact lenses but I have 20/20 vision?
A: For customers with 20/20 vision, we specially offer color contact lenses with power[0.00]. However the base curve is only available in one size.
In order to wear colored contact lenses, you must consult your ophthalmologist if:

you are trying contact lenses for the first time.
you have any allergies.
you do not understand how to handle contact lenses.
* We are not responsible for any kinds of problem which are caused by using contact lenses. Please follow any instructions given to you by your ophthalmologist.
About prescription data
Q: Where can I find my prescription data?
A: For customers currently using contact lenses.
Your contact lens box contains the information you need such as power, diameter and base curve.
For new users or customers who do not have their contact lens boxes.
You need to use the most updated prescription provided by your ophthalmologist.
Once you have purchased lenses, you can find the necessary data in your prescription or contact lens boxes and use that for future orders.
You will need to have PWR (power), BC (base curve) and DIA (diameter) information before you place an order. If you have been given a prescription for astigmatism you will need to have both CY (cylinder) and AX (axle) data as well.
Q: Are BC and PWR different depending on the lens manufacturer?
A: Because of global standards, all manufacturers must use the same notation for PWR and BC.
However, lens size, thickness, design and processing methods are different depending on the brand and the manufacturer.
If your contact lenses have been prescribed for astigmatism, your view will be different depending upon the manufacturer.
We strongly suggest having your eyes checked as directed by your ophthalmologist and following his/her guidance on lens selection.
Q: Is it possible to use contact lenses if the DIA is different from my prescription data?
A: We strongly suggest having your eyes checked as directed by your ophthalmologist and only with his/her confirmation should you use lenses with different DIA.
Prescriptions
Q: Do I need a prescription to place an order?
A: Yes, you must have a valid prescription under the applicable state laws.
Please ensure that your order is exactly the same as the prescription that was given by your ophthalmologist and that these lenses fit your eyes comfortably.
We do not take responsibility for any medical problems which may occur.
Q: How do I know the details of my prescription if I do not have a hard copy with me?
A: If you are currently using contact lenses, you may refer to the data such as the Power, Diameter, and Base Curve which is printed on the contact lens box.
However if you are not sure about how to read this information from your contact lens boxes, the graphic below will be of assistance.

[How to find your lens data on your contact lens boxes]

Please use the newest prescription provided by your eye care professional.
You need to have PWR(Power), BC(Base Curve) and DIA(Diameter) to place an order. In addition, if your contact lenses have been prescribed for Astigmatism, then you need to have both the CY (Cylinder) and AX (Axis) data.
Here's an example of how to read the contact lens data that is printed on the box.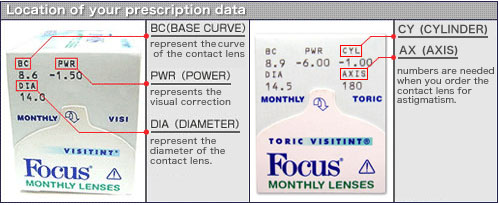 Eye Examinations
Q: Do I need to have my eyes examined before purchasing contact lenses?
A: Yes, as contact lenses are medical devices, your eyes must be examined by an ophthalmologist before making a purchase on our website.
At the same time, when putting on contact lenses, you will need to also follow the manufacturer's instructions and any guidance/instructions given to you by your ophthalmologist.
Q: Do I need to have my eyes examined periodically?
A: Yes, we strongly suggest that your eyes are checked periodically so that the contact lenses that are being purchased are of the correct degree.
Q: Can I wear contact lenses continuously?
A: If you are wearing Fortnightly lenses or Monthly Lenses which are designed to be worn over a period of two weeks or a month respectively, you must ensure that they are taken care of religiously by cleaning them properly.
If you experience any discomfort or irritations whilst wearing contacts, please remove them immediately and consult your ophthalmologist.
General
Q: What if I receive contact lenses that are different from what I have ordered?
A: Please contact us immediately by using the [inquiry form] with your Name, Order ID and the Lens Data of the contact lenses which you have received.
We will get in touch with you to advise on the next course of action to return the lenses and have the correct lenses send to you.
Q: How can I cancel my order?
A: Unfortunately once you have placed your order, we do not accept any cancellation.
Q: How long will it take to receive the replacement lenses if I were to return my lenses due to a change of my prescription.
A: The turnaround time for the return process and re-send process will vary according to the time taken for the goods to be returned as well as the type of lens that is to be replaced with.
Toric Lenses/Lenses for Astigmatism will take a longer time as it is custom made for each individual upon ordering.
Q: What if I find a defective lens?
A: Please remove the lens immediately and contact us by using the[inquiry form]with your Name, Order ID and the Lens Data of your defective lens.
We will instruct you on how to send back the defective lens. Please DO NOT throw your defective lens away.
Be sure to include the original boxes (even if opened) when you return the defective lenses to us.
Q: What if I made a mistake in the delivery address?
A: Please contact us immediately to see if we can change your address.
If your order has already been shipped, please contact the USPS Customer Service Hotline at 1-800-275-8777 to see if they are able to re-direct the shipment to the correct address.

*In the event that your order is being returned to us due to an incorrect address, please refer to our Resend Policy in our Terms & Conditions.
Coupon / Discount
Q: What are coupons / discount codes?
A: In order for you to enjoy the most competitive prices for contact lenses in the US, coupon codes are given from time to time so that you enjoy additional cost savings on your purchase.

Coupons / Discount codes are valid for a limited time only.
Q: Do coupons / discount expire or become invalid?
A: Please note that each Coupon/Discount code can only be redeemed once within the promotion period and will expire once the promotion period is over.
Q: Where can I find coupon / discount codes?
A: Coupon/Discount codes are usually given through email mailers or posted on the main page of our website. You may also share the codes with your friends and family so that they too would be able to enjoy the discounts when they purchase from Majorlens US.
Other
Q: What kind of solution should I use?
A: The type of solution to use would depend on the contact lens you are using it for.
There are many types of solutions available in the market and some may be specifically designed for certain types of lenses. As such, we would like to recommend that you consult your ophthalmologist on what to purchase before making the purchase.
Please be sure to check the manufacturer's recommendation and follow the guidance of your ophthalmologist when choosing contact lens solutions.
Q: Do you issue a receipt? What information does it contain?
A: Our standard receipt is enclosed with your order under customer's name, purchase information (i.e. a breakdown of the total amount charged), payment method, and details of the products purchased (product name, optometric data of each product, quantity, unit cost and total cost of each product).
Please note that we do not issue or reissue receipts to comply with an insurance company's specific requirements related to the processing of a claim for an insurance rebate.
Q: How do I use the Coupon/Discount code?
A: Enter your coupon code into the "Payment Method Selection" section's input box.
Payment Method Selection page appears after proceeding with your order to checkout via "Shopping Cart".
Discount will be displayed in the final payment overview.